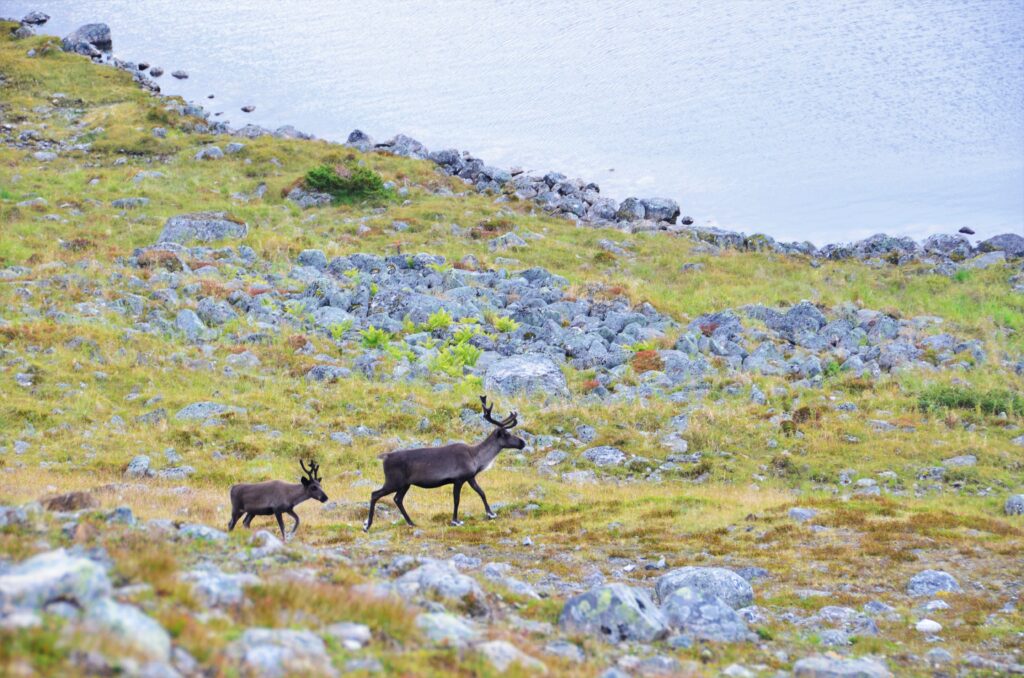 Wild caribou are the single most important land-based species for both human communities and ecosystems in the Arctic. Abundant across the polar region, these animals play an essential role both as herbivores that impact tundra vegetation and as an important source of food to Indigenous hunters. In many cultures, the caribou also have incalculable spiritual value.
Despite their clear importance and presence on the landscape, the fate of caribou in the face of a warming Arctic still remains unclear. Arctic regions are experiencing rapid rates of climate warming, which in turn weave a complex web of downstream effects. At the same time, the pace of human development is accelerating. Understanding how caribou will fare is of the utmost importance, but most existing studies focus on one or two caribou herds, which makes it difficult to generalize to the whole species.
"The Arctic is getting warmer, busier, and potentially riskier for caribou"

Logan Berner
The GEODE lab's Scott Goetz (Regent's Professor) and Logan Berner (Assistant Research Professor) seek to change this with a new research project funded with Elie Gurarie (State University of New York) and Mark Hebblewhite (University of Montana) as part of the National Science Foundation's Navigating the New Arctic program.
"Fate of the Caribou: from local knowledge to range‐wide dynamics in the changing Arctic" is a new interdisciplinary research project that will implement large-scale analyses across several caribou herds in North America. This work tackles the complicated interplay between caribou, climate, and the natural and built environments. The science will be co-produced with indigenous-led caribou and natural resource management boards and the findings and data products will advance understanding of caribou dynamics and assist managers and scientists in making well-informed decisions to promote the health of caribou herds across the Arctic.
"It is crucial that we consider and value the deep knowledge of people who have lived in these northern landscapes for many millennia. We try to combine that deep knowledge with the strengths of western science to better understand the world in a more holistic manner. There's so much intimate understanding that's gleaned from living in a landscape. It's the sort of thing we can't see with a satellite."

Logan Berner
Learn more about this research at NAU News.
Watch the GEODE lab's Logan Berner discuss the project on the AZ Family nightly news!
Read The Wildlife Society's take here.